With billions wiped out in markets globally across asset classes as investors recalibrate their portfolio in a rising interest rate environment, the sea of red — in terms of price performance as well as total returns — among 13 companies that have been named The Edge Billion Ringgit Club (BRC) Company of the Year, from 2009 to 2022, should come as no surprise.
Although only four of the 13 — Supermax Corp Bhd, QL Resources Bhd, Nestlé (Malaysia) Bhd and Press Metal Aluminium Holdings Bhd — clearly show significant gains when measured from the start of the year in which they were presented the accolade through Oct 28, seven still outperformed the local bellwether FBM KLCI and six beat the broader FBM Emas Index despite heightened market uncertainties.
Apart from the earlier four, Digi.Com Bhd still outperformed the FBM KLCI in terms of price performance while Petronas Dagangan Bhd and ViTrox Corp Bhd outperformed both indices in terms of price and total returns (see Table 1).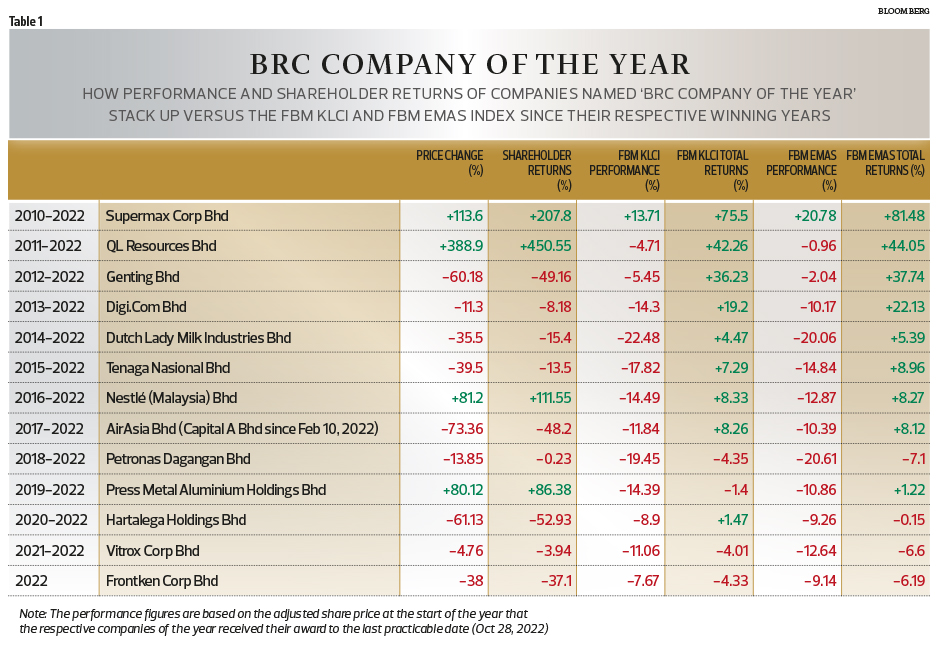 Seven is an improvement from six last year and only five when measured at the practicable date in 2020, but it is still a far cry from 2019, when nine out of 10 BRC Companies of the year outperformed the index. The difference can be seen in the glove makers, whose share prices had retreated from super-normal levels this year as the industry digested excess capacity post-pandemic, while Genting Bhd and AirAsia Bhd (which was renamed Capital A Bhd with effect from Feb 10 this year) were among the hardest hit by the pandemic.
This year's Company of the Year, Frontken Corp Bhd, was underperforming the FBM KLCI and FBM Emas year to date when measured on Oct 28. Nonetheless, Frontken beats both indices by more than 400% and is the top-performing company among all 13 by far when measured from the start of 2019, which covers the three-year period considered for this year's award and the months thereafter. During the period from Jan 1, 2019, to Oct 28, 2022, the FBM KLCI was down 14.39%, with total returns at -1.4% (see Table 2).
Members this year
At 178 in 2022, the number of BRC members — companies listed on Bursa Malaysia with a market capitalisation of at least RM1 billion at the cut-off date of March 31 — is down from the record high of 178 last year, but above 170 in 2018, 168 in 2019 and 161 in 2020.
This year's 178 BRC members commanded a market cap of RM1.58 trillion, or 88% of the combined market cap of all Bursa Malaysia-listed companies as at March 31, 2022. This is below the combined market cap of RM1.59 trillion from 186 BRC members last year but above pre-pandemic levels of RM1.55 trillion in 2019 and RM1.41 trillion in 2020 (see Table 3).
The combined net profit of this year's 178 BRC members of RM95.8 billion rebounded from a multiple-year low of only RM46 billion from 186 BRC members last year, owing largely to sizeable losses booked by larger members that were hit more severely by the pandemic in 2020 that pushed numbers to multiple-year lows.
Even so, BRC members continue to be major taxpayers, paying an estimated RM36 billion in taxes in FY2021, significantly higher than RM23 billion in FY2020 and RM28 billion in FY2019.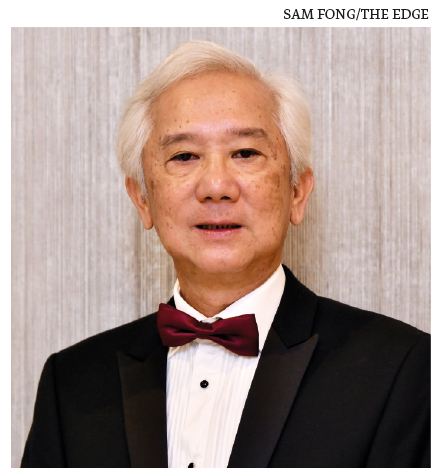 Many BRC winners, past and present, are leaders that rose above negative events and made sure they built on existing strengths and developed new ones to take on future challenges— Ho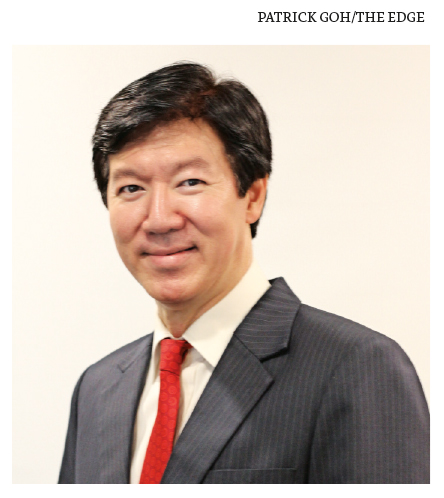 What we are seeing this year are stronger companies that have weathered the storm, and innovated and persevered to deliver excellence to their stakeholders and the community.— Ong
Digi still in the lead in trophy race
Among 139 companies that have won at least one BRC corporate award trophy over the years, Digi is still the recipient of the highest number of BRC corporate awards, with 22 this year — 16% of the 480 corporate award trophies given out in the past 13 years. This is largely due to the 19 awards it had collected so far for the highest return on equity (ROE) over three years.
With 14 trophies, Public Bank Bhd has the second-highest haul over the years while coming in third is British American Tobacco (M) Bhd with 12. Hartalega Holdings Bhd, Press Metal and Supermax Corp Bhd have each taken home 11 trophies; IGB REIT and Mudajaya Group Bhd have 10 each (see trophy tally over the years on Page 33). (For uniformity, we counted only those that won first place over the years and not the 41 silver awards given out in 2017.)
There are also noticeable changes to members that occupy the annual BRC Top 20 list in terms of market cap and profits (ranked by FY2021 numbers) this year, most notable being the rebound by MISC Bhd and movements at Tenaga Nasional Bhd as well as Petronas Gas Bhd. Glove makers have been booted out of the Top 20 market cap list with the cut-off date in March this year, but are still among the highest in earnings for FY2021 (see tables on Top 20 BRC members by profits and market cap on Page 29).
Malayan Banking Bhd, Public Bank and Petronas Chemicals Group Bhd remain the top three largest companies by market cap (as at the membership cut-off date of March 31, 2022). Maybank also kept its pole position on top of the earnings league, despite stellar numbers from glove makers in FY2021.
In its 13th instalment this year, these awards, which celebrate Corporate Malaysia's best performing and top responsible organisations, aim to spur Malaysian companies to be even better at what they do — not just financially but also those that strive to be responsible corporate citizens. This is why corporate responsibility (CR) efforts constitute 30% of scores that go towards determining the annual Companies of the Year. (For more on how The Edge BRC Companies of the Year are selected, see BRC awards methodology on Page 30. Read also what the panel of CR judges has to say on Page 24.)
In his speech as guest of honour at the BRC awards gala dinner on Oct 31, Finance Minister Tengku Datuk Seri Zafrul Abdul Aziz urged Corporate Malaysia to "work together with the government on institutionalising ESG" and shared "three key ideas in stabilising the Malaysian market, regardless of external and domestic challenges" (read full speech on Page 8).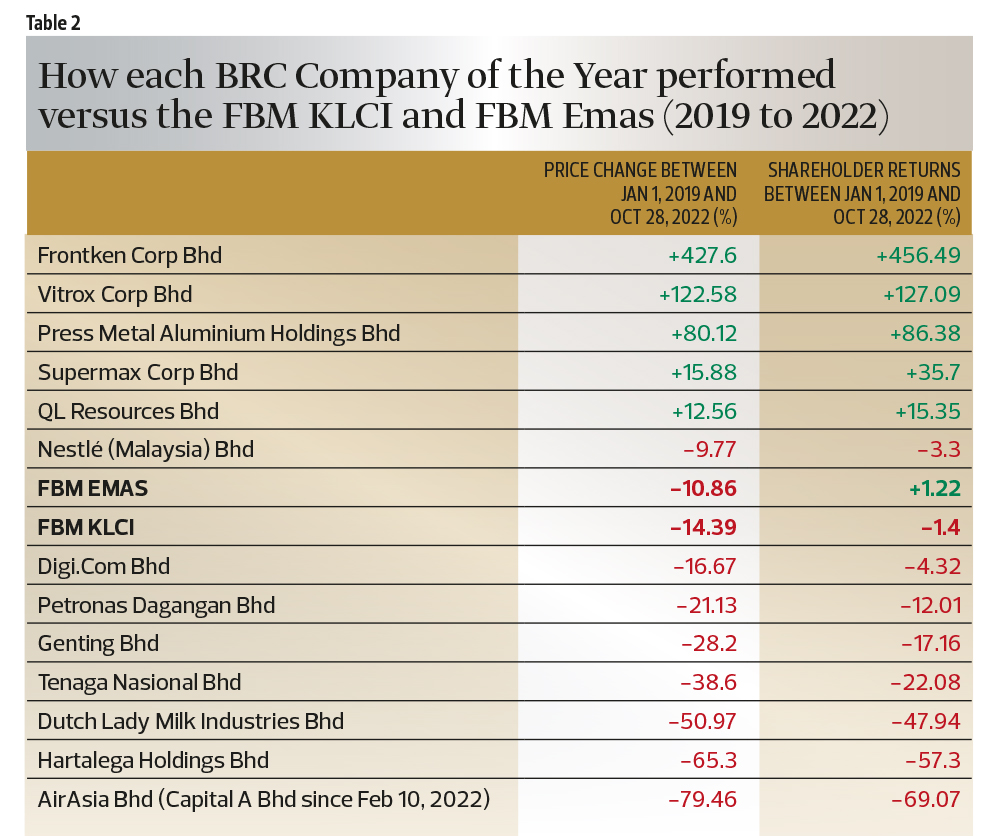 Winning on merit
In his welcome address, The Edge Media Group chairman Tan Sri Tong Kooi Ong recounted why the BRC awards came into being in 2010 and the importance of "creating an environment where innovation, creativity, good decision, hard work and success are rewarded".
"As all of us here today can appreciate, the recognition of one's achievement and contribution is an important part of this process, to bring out the best in each of us — to encourage businesses to strive for greater success in serving all its stakeholders.
"But it works only if the awards given are based on genuine merit. Companies and individuals that win must truly be deserving and critically acknowledged to be so by their peers. We live, increasingly, in a 'post-truth' era, where people are rightly sceptical and cynical.
"As leaders, it would be a mistake to dismiss such 'groupthink echo chambers'. What is right and necessary is to win trust by being credible, factual and thoughtful. And this has always been the mission of The Edge," Tong said (read full speech on Page 9).
The BRC methodology is transparent and the awards cannot be bought. Results are audited by Deloitte Malaysia. The billion-ringgit cut-off serves as an aspirational target for dynamic smaller companies, the same reason that the RM40 billion cut-off for "Super Big Cap" companies was established.
Celebrating excellence
OCBC Bank Malaysia, a key partner since the awards' inauguration in 2010, is the main sponsor for the 13th year. Also returning as a sponsor for the eighth year is Mercedes-Benz Malaysia, the event's official car. Cartier by Cortina Watch Malaysia, which supported the awards in 2020, is officially a supporting sponsor for the second year.
"Corporate Malaysia's most anticipated corporate awards ceremony and gala dinner would not be the prestigious annual gathering that it has become without their fervent support," says The Edge Media Group publisher and CEO Datuk Ho Kay Tat, thanking the BRC awards' distinguished partners OCBC Bank Malaysia and Mercedes-Benz Malaysia for their steadfast support, and Cartier by Cortina Watch Malaysia for lending its weight to celebrate Corporate Malaysia's continued excellence.
Congratulating this year's winners, OCBC Bank Malaysia CEO Datuk Ong Eng Bin, who was unable to attend the gala dinner, had earlier noted that the award recipients had strived to perform on all fronts, with several coming out stronger through digital innovation and sheer resilience.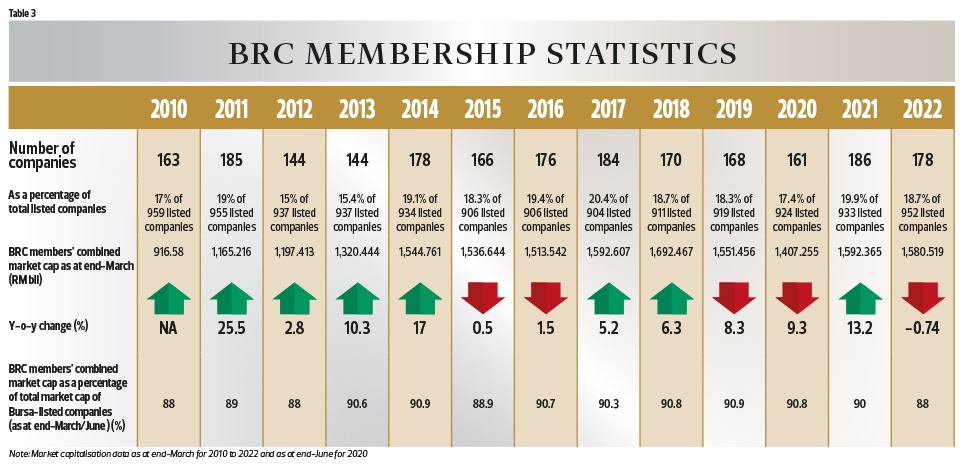 "What we are seeing this year are stronger companies that have weathered the storm, and innovated and persevered to deliver excellence to their stakeholders and the community. Their relentless quest to outdo themselves is testament to the lasting value and forward-looking postures that OCBC Bank holds as central to our own value system. This has also been demonstrated in these companies' commitment to sustainability and the ESG agenda," Ong said.
"OCBC Bank's association with this event for the 13th consecutive year underlines our own sustained commitment to what The Edge Billion Ringgit Club represents — celebrating Malaysia's crème de la crème of the corporate world," he added, noting that Oct 31, the gala dinner awards night, coincidentally marked OCBC Bank's 90th anniversary since its founding as an entity (from the merger of three local banks, the oldest of which was founded in 1912).
"It stands as a reminder to us and everyone out there that at the heart of sustainability is being ever present — as partner and friend to the community — for the long haul. With 90 years of giving to communities, OCBC Bank looks forward to enabling individuals, SMEs and businesses to build a more sustainable future," Ong said.
Sagree Sardien, president and CEO of Mercedes-Benz Malaysia and head of region, Southeast Asia II, applauds Corporate Malaysia and the country's rebound to firmer grounds, saying: "Although it was a challenging period for businesses from all industries alike, we are glad to see that the economy and market are back to their usual pace, and even showcasing promising growth.
"Mercedes-Benz Malaysia is honoured to be part of this awards event, as this overall showcases the nation's market recovery and momentum," she says, noting how the company too had been inspired even as it continues to drive the transformation of the automotive environment with sustainability efforts entrenched in its DNA.
Tay Liam Khoon, managing director of Cortina Watch Malaysia, also paid homage to "the entrepreneurial spirit" of Corporate Malaysia's best-in-class: "Despite the challenging year, these companies have demonstrated great agility and dedication that have spurred them to success while maintaining best business practices."
Spurring Corporate Malaysia on, Ho says: "Everyone goes through rough patches, that's life. Many BRC winners, past and present, are leaders that rose above negative events and made sure they built on existing strengths and developed new ones to take on future challenges. We look forward to celebrating Corporate Malaysia's crème de la crème, which proved resilient and contributed to the country's economic growth and recovery from Covid-19."