Companies that were scored highly on corporate responsibility (CR) initiatives this year showed clear measurement of lasting impact for multi-stakeholders, says The Edge Billion Ringgit Club (BRC) panel of CR judges.
Jeffrey Teoh, managing director and head of corporate and commercial banking at OCBC Bank Malaysia Bhd — the main sponsor of The Edge Billion Ringgit Club Corporate Awards — notes that sustainability has increasingly become an integral part of companies that strive to stay resilient for the long haul.
"More than 2½ years beyond the onset of the pandemic, the most resilient companies are still here with us today. The resilience of those who have ridden the storm to thrive today is borne out of an ongoing quest to remain relevant, profitable and sustainable. They have all done well by doing good. We are hopeful that as we move further along the transition to endemicity, others will learn from these examples of the business world and find a pathway to their own success," Jeffrey says.
Indeed, it is not just willingness to spend money but commitment to making sure that tangible and lasting differences for the people, community, environment, economy and country are derived from the investment of time and other resources.
It is therefore important for companies to track (and show) not only what was done in a particular year but also how the impact of a particular CR initiative has grown over the years and is driving lasting change on the intended target group or area.
"[Follow-up] is very important because what we want is a deep, lasting impact, not just one-off [aid] that may help short term but do not solve the issue [long term]," Jeffrey says.
The Edge Education Foundation CEO Dorothy Teoh concurs, explaining that companies that score higher are those that not only have sustainability road maps and responsible practices but have also built a collection of data points on the journey of fulfilling target pledges. "What's measured matters," she says, noting that companies with "sustainability heads" or a dedicated person tracking the impact of sustainability for the organisation "do noticeably better" than those without.
It would seem that government-linked companies and government-linked institutions have also stepped up their CR initiatives in response to calls to lend a hand during Covid-19 to save lives and livelihoods, with Petronas Chemicals Group Bhd, Sime Darby Bhd and KPJ Healthcare Bhd picking up three of the four CR awards.
"[That said], companies that do well are from a diverse range of industries. One does not have to be in any particular industry to rise to the occasion when it comes to CR. Companies that have responded to the government's call to step up efforts [during the pandemic] have proven that," says former deputy chief executive of the Securities Commission Malaysia Datuk Nik Ramlah Nik Mahmood, who currently sits on several boards of directors, including the Institute for Capital Market Research Malaysia, Perbadanan Insurans Deposit Malaysia (PIDM), International Centre for Education in Islamic Finance (Inceif) and Axiata Group Bhd.
Philip Koh Tong Ngee, senior partner at Mah-Kamariyah & Philip Koh Advocates & Solicitors, meanwhile, says he is impressed with the sustainability commitments of Press Metal Aluminium Holdings Bhd, a joint winner for the CR awards this year in the Super Big Cap category, alongside Petronas Chemicals.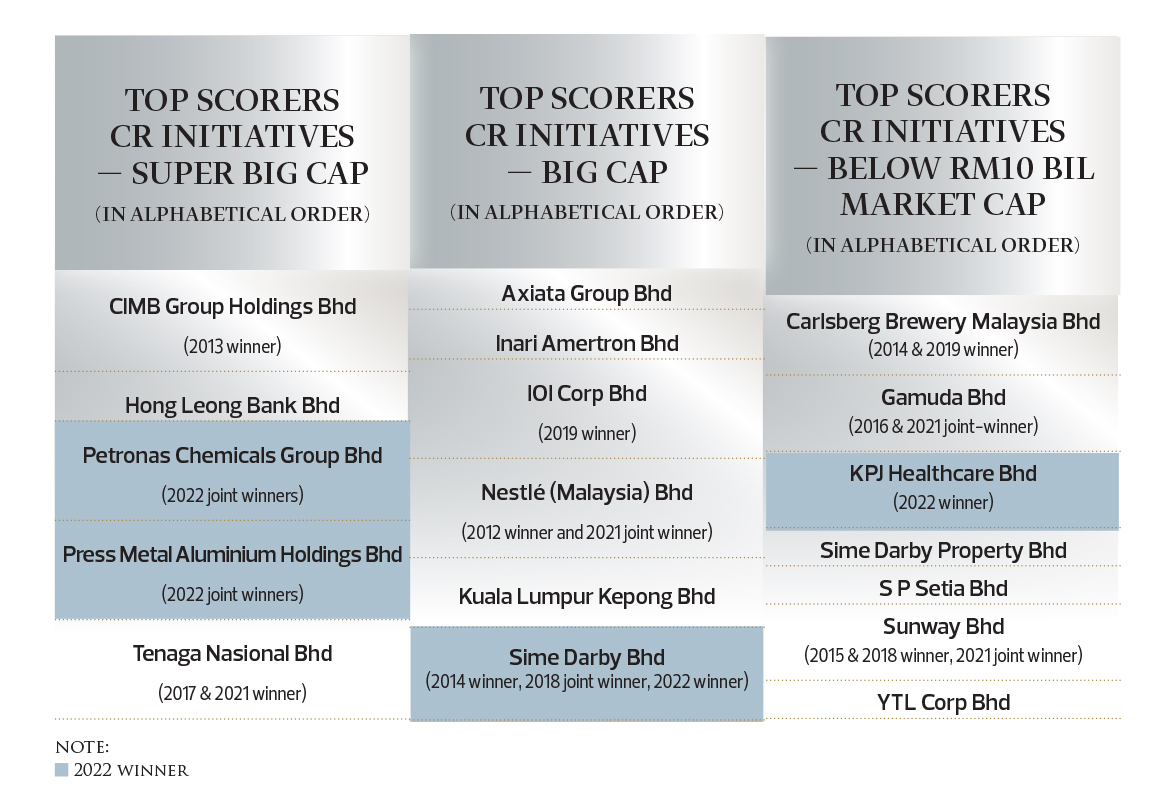 Dorothy notes that Press Metal was among companies included in the FTSE4Good Bursa Malaysia Index and FTSE4Good Bursa Malaysia Shariah Index in their recent semi-annual review in June.
Members of The Edge BRC 2022 that were also on the two FTSE4Good indices were Dialog Group Bhd, Greatech Technology Bhd, Malaysia Pacific Industries Bhd, Scientex Bhd and S P Setia Bhd, according to a June 9 statement by the stock exchange.
The pivot towards sustainability among the investment community is clear, with value being attached to inclusion in indices such as FTSE4Good, the Dow Jones Sustainability Indices and S&P Global Sustainability Yearbook, the judges add.
They also note increased efforts by responsible companies to not only change their own business practices but also choose to work with like-minded vendors. They also acknowledged increased investments in growing human capital and skills, "up-training", as well newer areas like data privacy and cybersecurity that are no longer a "good to have" but a "must have" with the shift toward greater digitalisation.
"A way the private sector can [reduce] skills mismatch is to train the people themselves," says Jeffrey, noting that the virtuous cycle created will benefit not only the people and companies but also the greater ecosystem.
In recognition of the importance of sustainability, CR constitutes 30% of the score in determining The Edge BRC's Company of The Year. The remaining 70% are from quantitative metric: growth in profit after tax over three years (30%); return to shareholders over three years (20%); and return on equity over three years (20%). (See BRC methodology on Page 30.)
Judges abstained from scoring and deliberations if they are a board member of the member company or if there are any potential conflicts of interest.