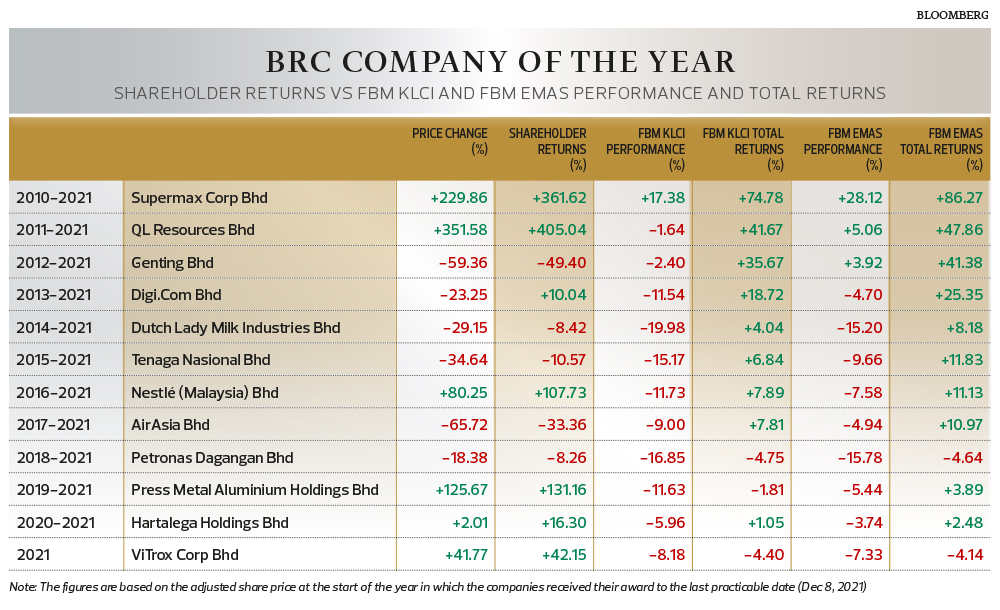 At 186, the number of The Edge Billion Ringgit Club (BRC) members for 2021 — companies listed on Bursa Malaysia with a market capitalisation of at least RM1 billion on the cut-off date of March 31 — is the highest since the awards began in 2010. It beat the previous record of 185 in 2011 and is significantly higher than last year's 161.
The number of companies on Bursa Malaysia with at least RM1 billion in market cap would have been 180, with a combined market cap of RM1.53 trillion, if the cut-off date had been Dec 8, the last practicable publication cut-off date. The combined market cap expansion represents an annual average growth of 4.8%, from RM916.58 million in 2010, when the awards began.
This year's RM1.59 trillion combined market cap of BRC members — at 90% of the combined market cap of all Bursa Malaysia-listed companies — is slightly below the 90.9% recorded last year and below the peak of RM1.69 trillion in 2018, but it exceeds pre-pandemic 2019's RM1.55 trillion. Last year's 161 BRC members' combined market cap was RM1.41 trillion — the lowest since 2013's RM1.32 trillion.
With FY2020 being a pandemic year, it is no surprise that the combined profits of BRC members fell to a multiple-year low of only RM46 billion, owing to billion-ringgit losses booked by each of five BRC members — Genting Bhd, Malaysia Airports Holdings Bhd, Genting Malaysia Bhd, Sapura Energy Bhd and AirAsia Group Bhd.
The year-on-year fall in BRC members' collective net profit from RM80.5 billion in FY2019 was due largely to the RM17.5 billion combined losses of 28 BRC members in FY2020. Excluding these losses, the combined earnings of the 158 members that remained in the black were still 21% below FY2019 — a reflection of the unprecedented shock from the pandemic.
Still, BRC members continue to be the country's major taxpayers, paying an estimated RM23 billion in taxes for FY2020. This is below the RM28 billion they paid in FY2019, but is still sizeable relative to the RM50 billion corporate tax collection for 2020.
Six of 12 still outperform index
Six of the 12 BRC Companies of the Year continue to outperform the bellwether FBM KLCI on total returns, measured from the start of the year in which each winner received its award to Dec 8 this year, according to Bloomberg data.
The six are QL Resources Bhd, Supermax Corp Bhd, Press Metal Aluminium Holdings Bhd, Nestlé (M) Bhd, ViTrox Corp Bhd and Hartalega Holdings Bhd. Being among the hardest hit by the pandemic, it is no surprise that Genting and AirAsia significantly underperformed the index.
That is already an improvement from last year, in which only five of the 11 BRC Companies of the Year outperformed the bellwether index at the practicable date, but still a far cry from 2019, in which nine out of 10 BRC Companies of the Year outperformed the index.
The pandemic also caused noticeable changes in members that occupy the annual BRC Top 20 list in terms of profits and market cap.
As at the membership cut-off date of March 31, Press Metal had surged from 24th place in 2020 to rank as the seventh-largest listed company on Bursa Malaysia, with a market cap of RM39.98 billion — a position it maintained as at Dec 8, with an even larger market cap of RM43.6 billion.
Malayan Banking Bhd and Public Bank Bhd remain the two largest companies by both market cap and net profit.
It is perhaps no surprise that Top Glove Corp Bhd surged to No 8 in terms of net profit among BRC member companies in 2020 from No 52 just a year earlier in 2020 (see "Top 20 BRC members by profits and market cap for 2021" on Page 47).
Four with the most trophies
With The Edge BRC Corporate Awards 2021 celebrating corporate excellence for the 12th year, we also looked back at all the companies that took home 428 BRC corporate awards and 15 corporate responsibility (CR) winners. (For uniformity, we included only those who won first place over the years and not the 41 silver awards given out in 2017.)
The four companies that have hitherto won the most BRC trophies over the past 12 years — Digi.Com Bhd, Public Bank, British American Tobacco (M) Bhd (BAT) and Hartalega — also won the most trophies in the Return on Equity (ROE) Over Three Years category. Digi.Com (2013 Company of the Year) has the highest overall trophy tally at 20, followed by Public Bank, with 13; BAT, 12; and Hartalega (2020 Company of the Year), 11 (see highlights of past BRC winners on Page 49).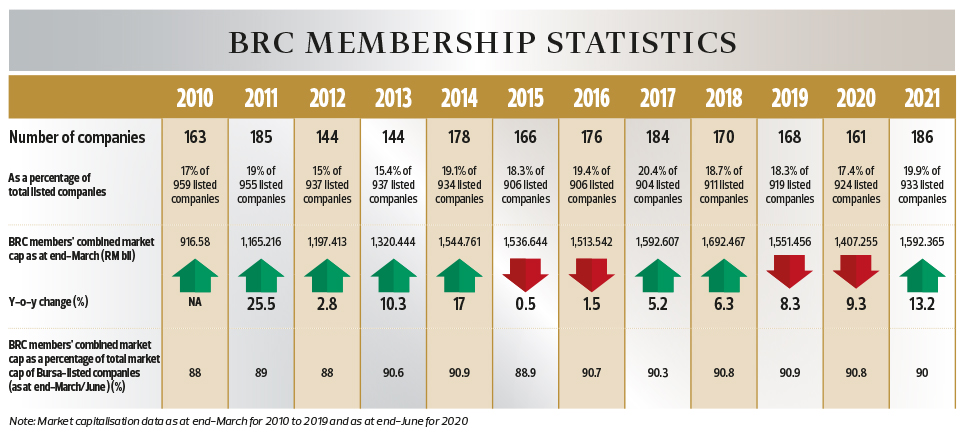 That said, not all past winners of The Edge BRC Company of the Year award are multiple award winners. For example, QL Resources and Nestlé, both of which outperformed the FBM KLCI by far in terms of total returns, have won only two BRC trophies each, including the Company of the Year award in 2011 and 2016 respectively.
It is worth noting that corporate responsibility (CR) efforts constitute 30% of scores that go towards determining the annual Companies of the Year (for details on how The Edge BRC Companies of the Year are selected, see the methodology on Page 48).
As The Edge Media Group chairman Tan Sri Tong Kooi Ong has said, the BRC methodology is transparent and awards cannot be bought. Results are audited by Deloitte Malaysia.
Celebrating excellence
This year's BRC also paid tribute to BRC members as well as other corporates and individuals who contributed funds in aid of healthcare frontliners (read more about The Edge Covid-19 Fund and donors on Pages 41 to 43).
The Edge Media Group publisher and group CEO Datuk Ho Kay Tat would have liked to have given recognition to more people at the gala dinner but was limited by SOP-related capacity restrictions. As such, only companies that were receiving awards (and not all BRC members) were invited to the event this year.
Still, the fact that Corporate Malaysia's most anticipated annual gala dinner could be held again barely two months after the Klang Valley entered Phase 4 of the National Recovery Plan (NRP) is worth celebrating.
Datuk Ong Eng Bin, CEO of OCBC Bank Malaysia Bhd, the main sponsor of The Edge BRC since 2010, congratulates this year's winners, noting that they continued to perform very well despite the challenging business climate.
Ong says: "These companies demonstrated that, despite the difficult situation and gloomy outlook, there remain opportunities to do well if one is prepared to embrace them. Their spirits were never dampened but were instead spurred to not just survive but thrive. Along with this, they demonstrated that the old adage still holds true, that good companies do well by doing good and perform well all the time. They have shown that sustainability can be a key driver to growth, especially in the current environment where ESG factors are becoming increasingly important to all stakeholders.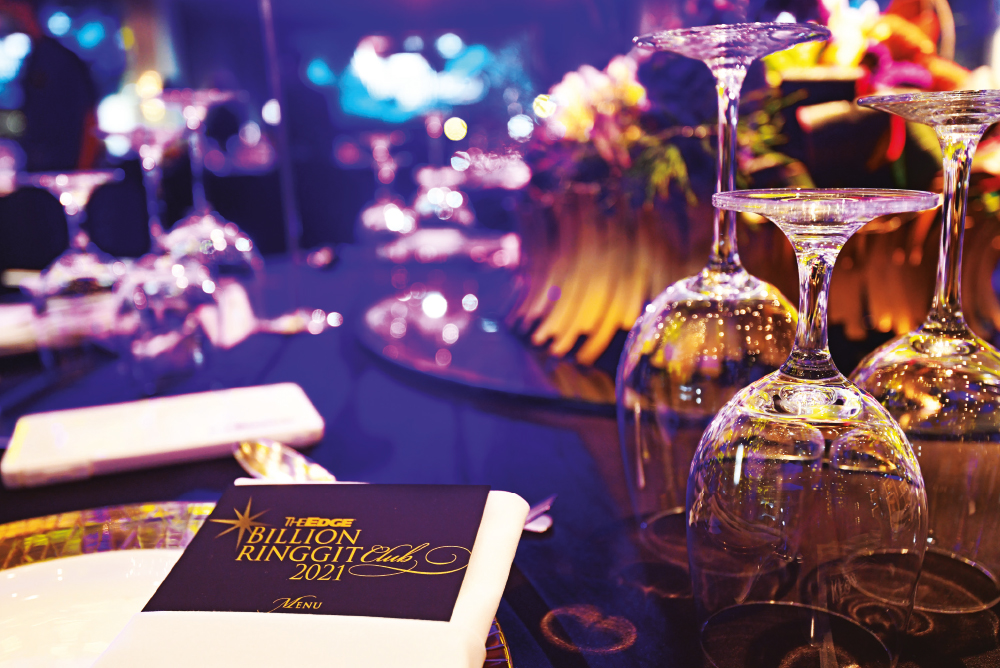 "Against this backdrop, OCBC Bank is indeed pleased to celebrate the 12th year as the main sponsor of this meaningful event since its inception in 2010. This underlines our own sustained commitment to the event and what it represents — to celebrate Malaysian corporates' best of the best as something real and that stands the test of time."
Returning as a sponsor for the seventh year is Mercedes-Benz Malaysia, which provides the award's official car. Cartier by Cortina Watch Malaysia, which supported the awards last year, is on board officially as supporting sponsor this year.
Michael Jopp, vice-president of sales & marketing (passenger cars) of Mercedes-Benz Malaysia, says: "I applaud the hard work and dedication put in by organisations that strive for continued success and excellence in their respective fields."
Tay Liam Khoon, managing director of Cortina Watch Malaysia, also applauds Corporate Malaysia's best in class and wishes everyone good fortune in the new year and many years to come: "May we continue to pave the way towards achieving sustainable growth and excellence."
"I thank OCBC and Mercedes-Benz for their steadfast support of the BRC and welcome Cartier by Cortina. This prestigious gathering would not continue being Corporate Malaysia's most anticipated corporate awards ceremony and gala dinner without these distinguished partners," Ho says.
"History has shown time and again that tough times never last; tough people and businesses do. We look forward to gathering together in greater numbers next year to celebrate excellence. Let's all build back stronger together. Strive on, Corporate Malaysia, strive on!"