The Covid-19 pandemic has changed the way people work, interact and celebrate key events. This year, The Edge Media Group and its partners are celebrating Corporate Malaysia's best-performing companies at the 11th annual The Edge Billion Ringgit Club (BRC) Awards — sans the prestigious gala awards dinner for the first time, owing to the ongoing Conditional Movement Control Order (CMCO) in the Klang Valley.
Tough times are indeed here. At 161, the number of The Edge BRC members — companies listed on Bursa Malaysia with a market capitalisation of RM1 billion or more — is the lowest in five years. That is based on the end-June membership cut-off date, a change from our usual end-March cut-off, owing to the Covid-19 pandemic.
Not only is the pool of billion-ringgit companies smaller, but their combined market cap of RM1.41 trillion as at end-June was below the RM1.55 trillion of the 168 members as at end-March last year. The 9.3% year-on-year decline was steeper than the 8.3% decline seen last year. A y-o-y decline in collective market value was seen in 2015 and 2016, but this year's fall is the largest since the awards began in 2010 (see membership statistics table on Page 8).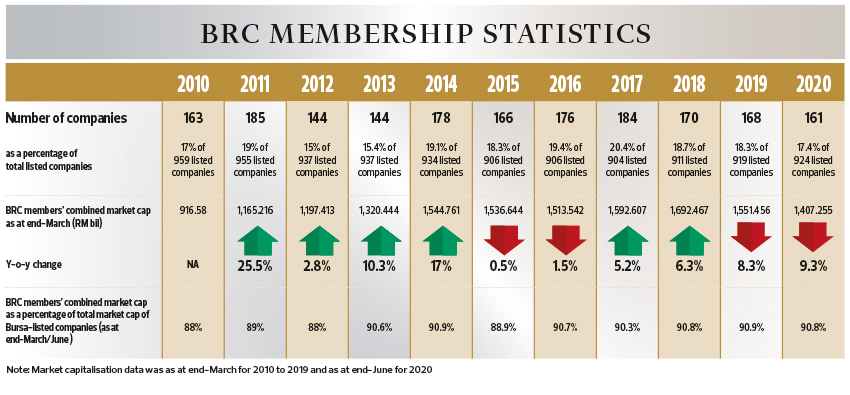 Yet, there is no denying the significance of this elite group of companies. This year's 161 BRC members' combined market cap constituted 90.8% of the total market cap of companies on Bursa Malaysia as at end-March.
BRC 2020 members' collective pre-tax profit was RM107.7 billion in FY2019, up 8.2% from the RM99.5 billion they made in FY2018. Collective net profit was RM80.78 billion in FY2019, up 10.6% from RM73.03 billion in FY2018, an improvement over figures seen during last year's awards. Last year's 168 members booked RM101.31 billion in pre-tax profit in FY2018, down 12.4% from RM115.6 billion in FY2017, while net profit declined 13.2% to RM73.37 billion in FY2018 from RM84.5 billion in FY2017. It remains to be seen how many have been able to sustain the improved performance this year in the face of the pandemic.
BRC members continue to be major taxpayers, paying an estimated RM26.9 billion in taxes in FY2019, compared with RM26.04 billion in taxes by the previous year's 168 members in FY2018. This continues to be more than 40% of the government's annual estimated corporate income tax collection.
It is also worth noting that four of the 10 companies chosen as The Edge BRC Company of the Year since our inaugural awards in 2010 continue to outperform the bellwether FBM KLCI and the broader FBM EMAS Index in terms of total shareholder returns since they were named Company of the Year. The best performing was Supermax Corp Bhd (2010 winner), followed by QL Resources (2011 winner), Nestlé (Malaysia) Bhd (2016 winner) and Press Metal Aluminium Holdings Bhd.
This year's Company of the Year, Hartalega Holdings Bhd, was also outperforming both indices, measured from the start of this year through Dec 7, Bloomberg data shows (see table).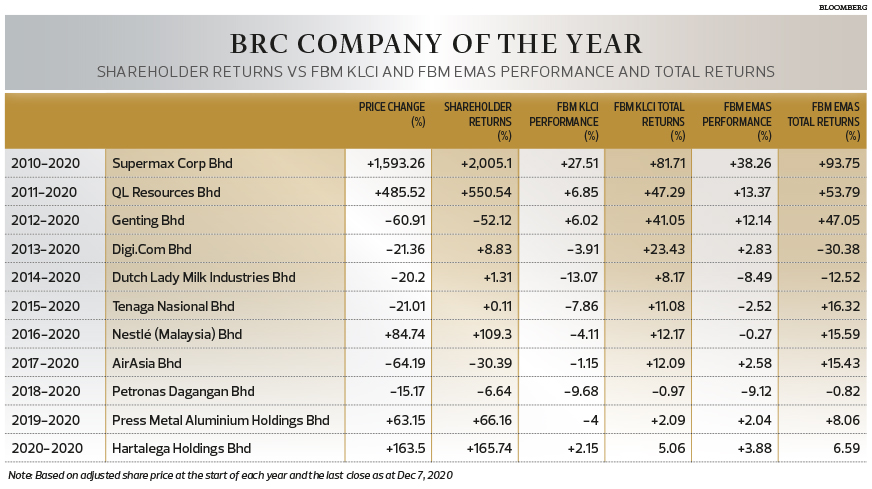 Phenomenal rise
Tellingly, two of the top three best-performing stocks among the past and present winners of the Company of the Year award were glove makers Supermax and Hartalega.
Supermax, The Edge Billion Ringgit Club's first Company of the Year, recorded spectacular gains in 2020. It will replace KLCCP Stapled Group as a constituent of the FBM KLCI on Dec 21, Bursa Malaysia said on Dec 3 following a semi-annual review of the FTSE Bursa Malaysia Index Series.
Even before this piece of good news was announced, the jump in demand for rubber gloves amid the pandemic had already caused a phenomenal rise in Supermax's share price and earnings. At the start of the year, the company's market capitalisation was just RM1.81 billion, down 18% from RM2.28 billion at end-2018.
However, the more than 1,000% year-to-date gain in its share price to RM7.70 as at Dec 7 pushed its market cap to RM20.2 billion. At their peak, the shares had closed as high as RM11.63 on Aug 6 to give it a market valuation of RM30.71 billion. If that share price level had been sustained until today, Supermax would have joined the ranks of the country's top 20 largest listed companies. It was at No 25 on Dec 7.
There are analysts who believe Supermax should be worth a lot more — all 11 analysts covering the stock call it a "buy", with target prices of between RM9.36 and RM16.04, according to Bloomberg data. If its shares rise to RM16.04, the company would be valued at over RM42 billion — more than the approximately RM39 billion market cap (as at Dec 7) of Hong Leong Bank Bhd, CIMB Group Holdings Bhd or Maxis Bhd.
Coming in at No 6 is Hartalega, with a market cap of RM49.5 billion as its shares closed at RM14.14 on Dec 7. This makes it smaller than only Malayan Banking Bhd (RM92.97 billion), Public Bank Bhd (RM72.2 billion), Tenaga Nasional Bhd (RM62.18 billion), Petronas Chemicals Group Bhd (RM60.8 billion) and Top Glove Corp Bhd (RM52.92 billion) — and much larger than many traditional blue chips.
At the peak of the euphoria over glove makers this year, Hartalega's market cap stood at RM70.3 billion, as its shares closed at RM20.42 on Aug 3. At one point, it was the country's third largest stock, overtaking even Public Bank, which is deemed among the bluest of the blue chips.
At the time of writing, as many as 15 analysts still had a "buy" call on Hartalega, with target prices ranging from RM20.60 to RM27.10, Bloomberg data shows. No analyst has dared to say "sell" just yet while six have a "hold" recommendation on the stock, with target prices between RM14.78 and RM19.50.
Going by the most bullish of analyst target prices for Hartalega of RM27.10, its market cap could reach RM92.9 billion — just a shade below Maybank's market cap of RM92.97 billion as at Dec 7. If Hartalega can sustainably deliver the kind of earnings growth that analysts believe it can and indicates that it will gradually increase its dividend payout rate, investors chasing yield in the current low-yield environment may just shore up its share price to where analysts hope it will go.
At the time of writing, the second best-performing Company of the Year is QL Resources. When it was named The Edge BRC's Company of the Year in 2011, its market cap was only RM2.5 billion as at end-2011. It took four years to double its market value to RM5.4 billion as at end-2015, and just another two years to double it again to RM11 billion. By end-2019, its market cap stood at RM13.2 billion.
QL shares closed at RM6.12 on Dec 7, giving it a market cap of RM14.9 billion, below the RM16.4 billion on May 29 when it closed at RM6.72 apiece.
Analysts are not as bullish on QL relative to those covering the two glove makers though — only two have "buy" calls, versus eight "hold" and four "sell" recommendations. One reason may be the uncertainties surrounding the retail sector and the speed at which consumer spending and the economy can recover. QL's Family Mart venture, for instance, was doing well before the pandemic hit.
It should be interesting to see how these stocks perform next year, one year after Covid-19 caused the world to go into various stages of lockdown.
Sustainable results
Nestlé — The Edge BRC's Company of the Year in 2016 — is the only company to have made it to The Edge BRC Top 25 list every year since the awards' inception in 2010.
Carlsberg Brewery Malaysia Bhd is the only company to have made it to The Edge BRC Top 25 list in 10 of the 11 years. It did not make the cut in 2010 but has been among the best every year over the past decade.
DiGi.Com Bhd — The Edge BRC's Company of the Year in 2013 — appeared on The Edge BRC Top 25 list in nine of the 11 years. The exceptions were 2019 and this year.
Dialog Group Bhd made it to the BRC top 25 list eight times out of 11, with the exceptions being 2015 to 2017.
Meanwhile, Dutch Lady Milk Industries (M) Bhd — The Edge BRC's Company of the Year in 2014 — and Hartalega Holdings — The Edge BRC's Company of the Year this year — are among six companies that have made the Top 25 list six times. The rest are Aeon Credit Service (M) Bhd, Syarikat Takaful Malaysia Keluarga Bhd, Top Glove Corp Bhd and Public Bank Bhd.
Five companies made the cut five times out of 11. They are QL Resources (The Edge BRC's Company of the Year in 2011), British American Tobacco (M) Bhd, Guinness Anchor Bhd, Hap Seng Consolidated Bhd and United Plantations Bhd.
Eleven companies made the Top 25 list four times over the past 11 years. They are AirAsia Bhd, CIMB Group Holdings Bhd, Fraser & Neave Holdings Bhd, Heineken Malaysia Bhd, Kossan Rubber Industries Bhd, KPJ Healthcare Bhd, Kuala Lumpur Kepong Bhd, Malayan Banking Bhd, Malaysia Building Society Bhd, Scientex Bhd and Tenaga Nasional Bhd (The Edge BRC's Company of the Year in 2015).
The 11 companies that made the Top 25 list three times over the 11 years include 2019's Company of the Year Press Metal Aluminium Holdings Bhd, 2018's Company of the Year Petronas Dagangan Bhd and 2010's Company of the Year Supermax. The other eight are Astro Malaysia Holdings Bhd, Cahya Mata Sarawak Bhd, Guan Chong Bhd, Inari Amertron Bhd, Mudajaya Group Bhd, MyEG Services Bhd, Tradewinds (M) Bhd and UEM Edgenta Bhd.
If they continue to do well, some of these names could be the next Company of the Year.
The Edge BRC recognises excellence in companies with a market cap of at least RM1 billion. The billion-ringgit cut-off point serves as an aspirational target for dynamic smaller companies. Companies are added to the annual list automatically at the cut-off date and are evaluated on growth in profit, returns to shareholders and corporate responsibility (CR) commitments, among others. The award methodology is transparent and the results are audited by Deloitte Malaysia Bhd.
OCBC Bank (Malaysia) Bhd, a key partner since the awards' inauguration in 2010, returns as the main sponsor for the 11th year. Mercedes-Benz is the official car.
Datuk Ong Eng Bin, CEO of OCBC Bank Malaysia, says the 11th year of the bank's collaboration with The Edge takes on greater significance against the backdrop of these challenging times amid Covid-19.
"Despite the environment caused by the pandemic, Corporate Malaysia has continued with its sustainable initiatives. Climate change and social justice realities call for organisations big and small to embrace ESG (environmental, social and governance) practices even more wholeheartedly in all they do," Ong said.
"Uncertainty was already the new normal before Covid-19 struck but, as many BRC members have consistently proved in the past decade, when the going gets tough, the tough get going," says Ho Kay Tat, The Edge Media Group publisher and group CEO. "It is when the tide goes out that we know which companies look good only on the surface and see with renewed conviction the ones that are resilient and built to last," Ho adds, reiterating the importance of celebrating corporate excellence and good governance to spur Corporate Malaysia on. "This is a marathon. Strive on Corporate Malaysia, strive on."
Looking ahead, Ho says companies "must take note that it's not just about making profits but increasingly about making profits responsibly. Due consideration must be given to all stakeholders in the community and not only company shareholders".